Interactive education
Practice
Create beautiful animated reports, specific to your technique.
How it works
Analyze your x-rays, enter your patient's measurements into your dashboard.

Your patient's interactive report is created from their very own misalignment.

Use during your patient's visit, or send it home with them to explore on their own.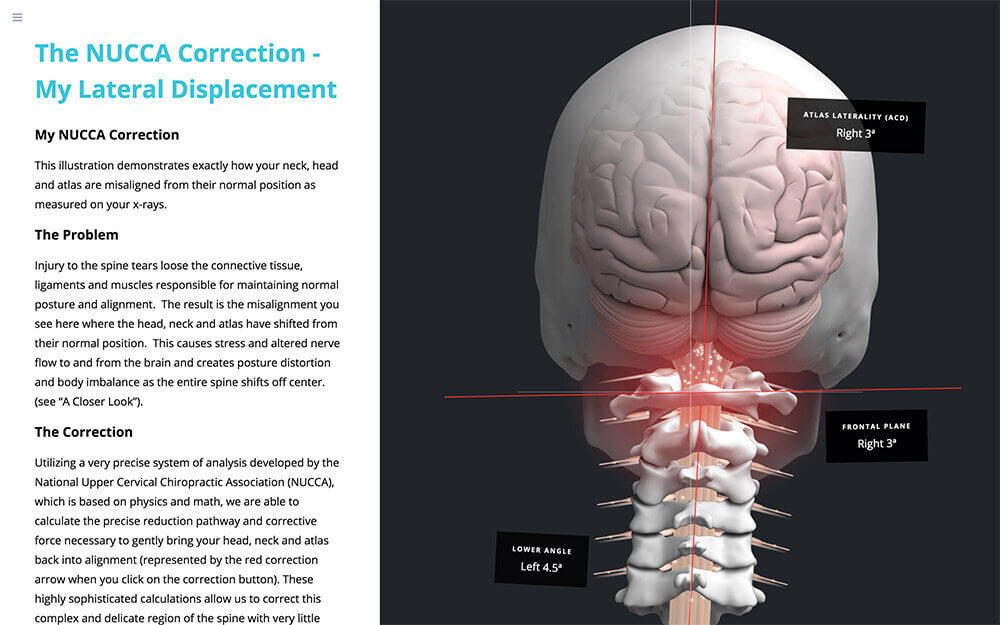 Your patient's actual misalignment, beautifully animated.
MyMisalignment provides a close-up view of the cervical spine and brainstem as well as an expanded view of how the upper cervical subluxation impacts the entire body. Watch the light bulbs turn on, as your patient's see their misalignment come to life.
MyMisalignment is $75/mo. No setup fee or hidden costs.
Sign up
Features

Your clinic, your technique MyMisalignment is personalized to your own clinic and the exacting animation of your patient's misalignment is based on your specific technique and listing protocol.

Create Patients and Reports Create multiple reports for your patient throughout their journey of care. Your patients and reports are stored in your secure dashboard so you can access them at any time.

Customize your patient's experience Tell the story of your patient's subluxation and its deleterious affects on health in your own words. Page content is completely customizable.

Powerful Template System Whether it's your patient's first visit, after a follow-up x-ray, or you'd like to send a report to another health professional, Create reports from customizable templates for any situation.

Email your patient's Report Quickly email your patient's report to them, or another health professional. Default email content can be pre-populated by templates, so preparing your message is a breeze.

Accessible anywhere online Use MyMisalignment on any computer, tablet, or phone with internet connection. Supported by all modern browsers, no plugins required.

Print or save as PDF Send your patient home with a beautiful printed version of their report, or save their report as a PDF.

Analytics Always know if and when your patient views their report on their own. From your dashboard, quickly see view statistics for the week, month, or year.

Presentation Mode Speaking to a group or teaching a class? "Presentation Mode" allows access to all animations without the accompanying narrative. Our visuals are a sure way to hit a home run with your audience.
I love MyMisalignment.

Before I used this program, I would show patients their films and their misalignment on the films. A select few seemed to take interest and understand what we were looking at, but the majority of patients just kind of glaze over. MyMisalignment puts the x-ray and misalignment into layman's terms so the patient can really see their misalignment and how it is corrected. It also adds another notch of professionalism to the office, adds a little polish. When they are typing in their own specific listings of their misalignment, they understand that this is not just a generic handout but something specifically tailored for them. Patients love the other features of the website as well. It reiterates the big picture of how it all goes back to the brainstem.

I am grateful that you took this project upon yourself and have shared it with the Upper Cervical community. It has definitely helped my patients "get it".

My patients are absolutely loving the site and reviewing it after their initial correction!
It has also dramatically changed my report of findings and initial consultation, it is so much easier to explain with a moving animation
Rather than motionless x-ray.

MyMisalignment has dramatically shortened my Report of Finding time, increased patient understanding, and increased the percentage of patients who chose to get under care from 70% to 95%. I don't fumble around with complicated explanations with the x-rays, they see the computer model and they're eyes light up and they "Get it!"

Since implementing MyMisalignment into our practice we see no push-back from patients (or their spouses) and compliance with care recommendation is nearly 100%! Referrals have increased dramatically because our patients now have an easy way to tell others about upper cervical chiropractic. One of our patients has shown MyMisalignment to every one of his clients and prospects in the past year and has directly referred nearly 100 elite hockey players, not to mention most of his own family! We also save over $100 a month on printed education material. It works!

I have been using MyMisalignment on my website for one year and have just signed up for my second year. I would just like to thank you and your team for such an informative Upper Cervical addition to my website. My patient feedback over the last year has been overwhelmingly positive. They are very impressed with the graphics and information provided by this feature.

Using MyMisalignment in my office is a huge success! My patients are appreciating it so much. It's nice to have a tool that I can give my patients to help them visualize their misalignment and the correction of it.